Happy to see you in Fabrika Decoru creative blog!Winter Tale with @svitlanakovtun_ua is going on. Today we suggest you some interesting ideas on how t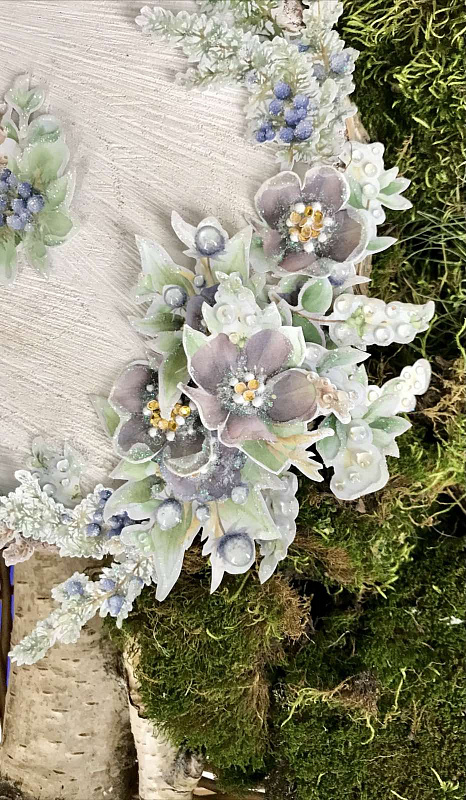 Hello everyone!Lena (@lena_rukodilnik) is with you today. I want to share with you a little tutorial on making greeting cards from the collectio
Hello to all creative people! Kamilla Konstantinova @_kamilla_konstantinova_ is with you. Today as the inspiration I want to show my winter albu
Glitter for arts and crafts and scrapbooking - Luxurious shimmer in creative projects
The wide use of a range of various decorative materials and coatings in arts and crafts makes it possible for every craftsman, amateur or beginner to create a bright, original gift, decor item or holiday decoration that will surprise and bring joy for a long time. It can be Christmas decorations for the New Year or Christmas, luxurious floral arrangements, artificial flower wreaths, tea houses or elegant stands for sweets and cakes on a festive table.
In order to make an appealing decor or decoration, you need quite a bit of things: choose the most beautiful one from the rich assortment of the Fabrika Decoru blanks, the one that you like the most and purchase it. In the joy of buying, do not forget to purchase the necessary materials for work: glue, paints or texture pastes, as well as decor and embellishments such as flock, sequins or sparkling glitter. Then you can proceed to the real creative mystery - the creation of the most beautiful and elegant piece of art, which will undoubtedly surprise everyone!
In order to decorate your project beautifully, it is important not to overuse with the brightest and most frequently used accent - glitter. Let's talk about it in details.
What is Glitter for and where is it used?
Glitter is a dry powder consisting of sparkles of various colors and shapes, ranging in size from tenths to units of a millimeter. The powder-forming particles are finely cut, colored reflective film. The word itself comes from the English word "glitter", "sparkle". Thanks to this, without exaggeration, magical property, this wonderful powder is able to make everything that it touches shine. If you need to quickly create a festive atmosphere on the occasion of a celebration, wedding or New Year, take this magic wand and touch everything that needs to be turned from the most ordinary into sparkling fabulous scenery.
So that the shiny particles of glitter do not crumble from the slightest breath of a breeze or rustle, we recommend to fix it on the surfaces of various objects using liquid adhesive tape glue or even acrylic varnish.
Once the glue dries and your creative project is complete, your gift, toy or decorative piece will sparkle like jewels in the light. Glitter-covered petals, stamens and leaves, pebbles or feathers will turn into sparkling diamonds, and ordinary objects will turn into a spectacular, bright decor.
Where to buy glitter for arts and crafts
Glitter for paints and texture pastes, for arts and crafts, scrapbooking can be bought wholesale and retail at low prices on Fabrika Decoru website, a Ukrainian manufacturer of goods for hobbies, arts and crafts. We guarantee fast collection and delivery of your order by any of the available postal services in Ukraine. We also ship orders with your favorite scrapbooking products all over the world.