Hello everyone!Today Olga Geredzhuk @olgageredzhuk is sharing with you how to decorate a desk organizer to keep perfumes or stationary.Do not forget t
The DIY organizer: how to make a convenient storage for jewelry, cosmetics and stationery
In order to rationally organize the living space in the workplace or at home, to make it comfortable and cozy, people have invented all kinds of functional furniture - lockers, cabinets, secretaries, pencil cases, chests of drawers, etc. You should agree that it is much more convenient to store bulky or unnecessary things in a permanent household. Well, what about those items that are often used in everyday life, because these things should stay close at hand, and most importantly, how to keep in order? You can't just keep everything in one place. And if you do, then this situation is unlikely to please the eye, well, at least for a short time.

The problem is solved by organizers for small accessories. After all, its main purpose is to put in order among the little things, to make these things easily accessible for everyday use. But then another question arises - what organizer should be purchased and how should it look?
Organizers. Advantages and disadvantages
For example, an organizer made of transparent acrylic (plexiglass), of course, looks good, but this material looks soulless and frigid. Moreover, acrylic can not be decorated, it is already a complete thing. Another obvious disadvantage is that the material becomes cloudy and scratched over time. And inside the still transparent sections after a short time accumulates dirt ... Thus, the view of such organizer after a couple of months of use will not be as elegant as at the beginning.

Our web-shop offers an alternative solution - organizers made of MDF or plywood, which are easy to assemble, and then decorate, for example, in decoupage style, painted or decorated with shaped elements, which you can find in the sections Decorative elements and Chipboards. Look how stylish and bright the organizers look, decorated in the style of punk or decoupage on the examples below: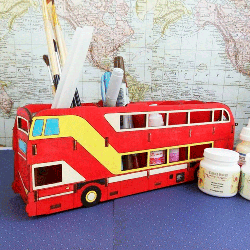 You can make this beauty yourself, just spend some time, put in some skill and have a bit of inspiration! You will get a fashionable, unique to no other things organizer, that will become an adornment not only for a desk or a closet but also a harmonious element of the interior. Friends and colleagues will definitely be delighted with your skills!
In addition, wooden organizers by Fabrika Dekoru can be also a great gift, as they are packed in individual cardboard boxes with vivid labels. Give them to children, friends or relatives, boyfriends and girlfriends, for birthdays, on occasion and without. After all, it will be great to assemble and decorate to your liking this necessary item in the household, with the pleasure to use and admire it.
For example, for men, can purchase and assemble a functional box for tools or fishing gear, then with the help of wooden embellishments decorate it in the military or steam punk style. And girls, for their own vast reserves of cosmetics and jewelry, can make an organizer for bijouterie in pastel pink or fashionable turquoise tones. On occasion, such a beautiful thing to show off to friends on a personal page on Instagram or Facebook. Children, of course, will also be delighted if, after assembly, they decorate the organizer with figures of cartoon characters, funny bears, bunnies or deers, which are present in a huge selection at the Fabrika Decoru's store.
Wooden organizer for a gift and for creativity - where to buy?
IYou can buy wooden or MDF organizer for keeping brushes, paints, sprays, writing materials or cosmetics in the online store creativity and scrapbooking Fabrika Dekoru at manufacturer's prices, wholesale or retail with delivery all over the world.