Hello everyone! Today I, Katia Suprun, want to show you a variant of decorating a napkin holder from a blank by TM Fabrika Decoru. The size of t
Hello everyone!Today Olga Geredzhuk @olgageredzhuk is sharing with you how to decorate a desk organizer to keep perfumes or stationary.Do not forget t
Hello everyone!Today we are sharing a useful tutorial made by our designer Yelena Yushchenko on how to decorate plywood organizers with our new produc
DIY Desk Organizers and wooden boxes for stationery, cosmetic and accessories
In order to rationally organize the living space at work or at home and make it comfortable and rationally, people have come up with all kinds of functional furniture: cabinets, stands, cases, dressers, etc. There, it is more convenient to store bulky or unnecessary things in constant use and get them out of there as needed.
Well, what about those things that are more often used in everyday life? These ones should remain at hand, and most importantly, how to put things in order at the same time. After all, you cannot throw it anywhere. And if you do, then such a situation is unlikely to please the eye… Well, at least within a long time.
The solution to the problem is a desk organizer for small items and accessories. After all, the vocation of an organizer is to put things in order among the little things, to make these things easily accessible in everyday use. Then another question arises - what kind of organizer to buy and the material this item should be made.
Acrylic and wooden organizers. Cons and pros
For example, an organizer made of acrylic glass is certainly good, but such a material is soulless and cold. Moreover, acrylic cannot be decorated, it is a self-sufficient and complete thing. Another obvious disadvantage of such organizers is that they become cloudy and scratched over time. And after a short time, dirt accumulates inside the still transparent sections ... Thus, the appearance of an acrylic organizer after a couple of months of use will not be as elegant as at the beginning.
Fabrika Decoru offers an original solution as an alternative to organizers made of acrylic glass - DIY kits that can be made out in decoupage style, painted, decorated with several decorative elements or figures. Please look at how stylish and bright the organizers look, decorated with amazing embellishments in the style of steam-punk or decoupage technique: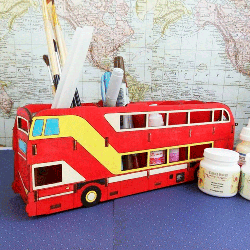 Such beautiful things can be done on your own, it is worth spending a little time, applying a little skill and armed with inspiration. You will get a fashionable desk organizer, unlike any other ordinary thing. It will become an adornment not only of a desk but also a harmonious element of interior decor. Your relatives and friends will be much excited.
In addition, DIY desk organizer kits may also serve as an excellent gift. Give them to children, friends or relatives, boys and girls, to birthdays, on any occasion and without. Really, it is so fascinating to assemble and decorate such a necessary item in everyday life, in an original way, so that you can then admire it. For example, men can put together functional storage for military tools or fishing accessories. Well, the girls, for their own immense supplies of cosmetics and accessories, will be able to arrange a box organizer in bright pink or turquoise colors. On occasion, such a beautiful little thing can be shown to friends on a personal page on Instagram or Facebook.
Children, of course, will also be delighted if, after assembly, they decorate the organizer with figures of cartoon characters, funny bears, bunnies or deers, which are present in a huge selection at the Fabrika Decoru's store.
Present yourself, a friend, a child or a friend with such a functional organizer box, which will not only be convenient storage of accessories, jewelry or cosmetics but also become an original interior decoration and a source of pride for the owner.
Wooden DIY organizers - easy to order, quick to receive
In the online Fabrika Decoru's creativity and scrapbooking store you can buy DIY desk organizers with different functionality for many uses: storing brushes, paints, sprays, stationery, cosmetics and accessories. We are glad to offer affordable wholesale and retail prices, many promotions. We provide prompt order processing and worldwide fast delivery.